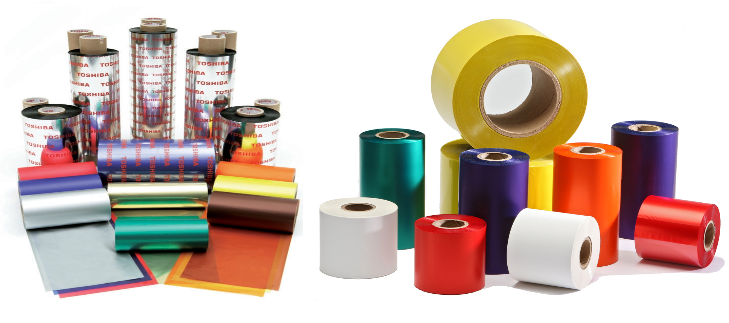 DSD supplies ribbons for all makes and models of thermal transfer printers, flat head, near edge and corner edge printers.
DSD has ribbons for all substrates from labels to flexible packaging film.
Thermal Transfer Ribbons available in Black, White, Red, Green, Blue, Brown, Purple, Yellow, Matt Silver, Matt Gold, Metallic Gold, Metallic Silver.Metallic Gold, Metallic Silver Thermal Transfer Ribbons look fantastic on all substrates, ask for a free sample and try them out.
With over 4000 stock sizes for next day delivery, we can also make any size required.
Grades
Wax general purpose for economical solutions and printing – higher speeds and lower temperatures.
Particularly adapted to all kinds of paper substrates, very good sensitivity and excellent blackness.
World's first Solvent free AWR470 wax ribbons. This is not a new formulation so print quality etc will be as excellent as ever. This will help you reduce your carbon footprint along with helping protect your printhead. Please click on www.solfree-ttr.com link to see all the benefits etc.
Wax/Resin for perfect print quality for labels, tags, films and plastics with good scratch and smudge protection.
Excellent receptor and multi – compatibility, very good printing quality and high speed printing capability.
Resin based for demanding solutions and superior scratch resistance suitable for synthetic materials and poly products.  Excellent printing quality, good resistance to high temperatures and excellent smudge and scratch resistance.